wahai pembaca blog ku sekalian...tolong lah..plis la..abaikan kesengalan sy dikala dekat2 exam ni..
sempat lagi nk update blog...nk bergossip plak tu.heh.ala,time study kne la rest jugak,betol tak?
sy akan berperang esok owkay!sile bg support~
oh ye,alang2 tu sy nk wish..
urgh..sabar nad...sabar..2 minggu je,then it's over!no more theories! (insyaAllah klau lepas la)
ckp psal gossip..
MAWI DAH KAWEN!!!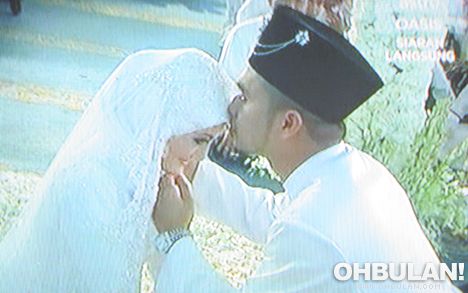 congrats!
sy ni bukan la die hard fan MAWI pon..biase2 je. mcm best je tgk die kawen.hehe.
happy sgt
Mawi ng Ekin
dh kawen,sbb sy sgt kesian kt diorg asyik kene kutuk je dgn org2 yang jeles tak psal2 tu..
(nampak sgt ikut OH BULAN!haha)
kahwin kan bende baik..tak baik tau doakan diorg tak kekal lame..ishk2..
semoga mawi and ekin kekal ke anak cucu~
jgn jadi mcm artis lain..
kawen cerai curang
jadi kebiasaan..
ceh..mcm gempak jugak sy komen,boley buat blog gossip ni.hahah.kidding!xde makne nye~
ok..
NEXT GOSSIP!
RITA RUDAINI and AIDIL ZAFUAN..
diorang kawen senyap2 kat
Thailand
..adeh..awat jauh sgt?!
takpe la..at least kawen kn =p
actually sy x pernah knal pon sape aidil zafuan tu..mane la ai tgk bola oii..lagi2 team malaysia..
knal pon sbb
ezy
yg cite..
aidil zafuan and his twin(lupe name) are
her childhood friends
..diorang m'besar same2..
mak the twins yang jaga ezy time kecik2 dlu..so diorang sgt rapat la time kecik2 dlu.
and haritu the twins ade jumpe ezy time main kat surabaya.
ape lagi,bile kluar gossip ni,sy cpt2 bgtau ezy!haha..bajet
mami jarum
btol laaa...
tp seriously,rita rudaini ni cun gile kan?
dr dlu sy suke tgk muke die...hehe.
semoga diorang kekal ke anak cucu..rita tu dah pregnant pon.mesti anak die syomel gile!
ok2...enuff...sy rase dh boleh start study balik kowt..haha..
cara yang baik untuk re-gain semangat utk study
= bergossip
.hahaha
tepi sket..tepi sket...nk g study plak..papai
XOXO